We welcome into our Church the newly Baptized,  Cecilia Elizabeth Werner, Elise Marie Werner, Milana Robbie Cotelo, and Christian Michael Martinez.

On Independence Day (and the Pastor's birthday) we found a bat being self-baptized in our Baptismal Font.  One of our parishioner's scooped the little guy out of the font and placed him outside.  Unfortunately the bat was placed in the grass.  Knowing that bats cannot take off from the ground and that he would perish, […]

July 4th-Parish and Religious Education Offices Closed July 7th (1:30 pm) Baptisms July 20th & 21st-Birthright Carnation Sale after all Masses July 21st-Social Sunday July 21st (1:30 pm) -Baptisms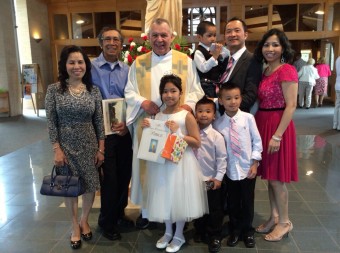 A special welcome to those who are single, married, divorced, gay, filthy rich, dirt poor, or no hablan ingles. We don't care if it is your first Sunday at church or whether you've been to Church more times than the Pope.
We welcome you if you are having problems or are feeling overwhelmed or if you don't like "organized religion." If you are looking for a fresh start, a fresh cup of hot coffee, or a hug from a new friend there is a place for you here.
We welcome seekers and doubters, bleeding hearts and jaded cynics, the lost, the found… and you!

Read this week's bulletin

What's coming up on St. Luke's schedule

The latest parish happenings and announcements

Make a donation to St. Luke's or its campaigns.