Holy Matrimony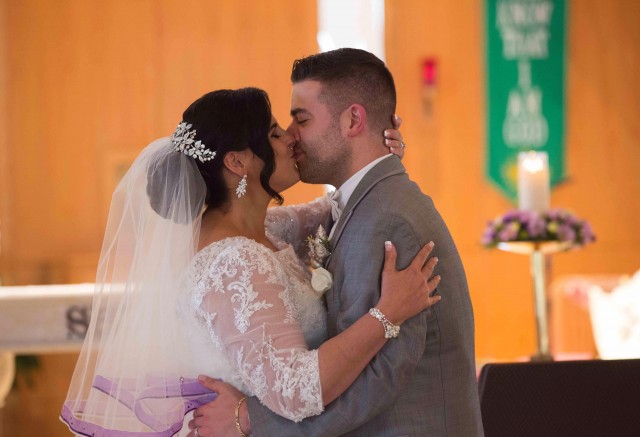 Nicole and Matt, married at St. Luke's on September 30, 2017
NOTE: This page is an introduction to weddings at St. Luke. Please see the Wedding Procedures and Guidelines page for more detailed information about weddings at St. Luke.
---
The St. Luke Parish Family rejoices in your decision to love and marry each other. We are happy that you have decided to come to our parish to prepare to celebrate the Sacrament of Marriage. As you know you are not just preparing for the Wedding Day, but a new life together as husband and wife. No doubt you will spend much time in planning your big day with dresses, invitations, tuxedos, etc., but it is now most important for you to take a keen interest in the Sacrament of Holy Matrimony. In order to make sure that you are willing and prepared to enter into the Sacrament of Marriage, and in order to preserve the sacredness and meaning of this sacrament, St. Luke and the Diocese of Trenton presents these guidelines for our couples who are taking this most significant step in life. It may seem like a lot of information, but please read it over carefully so that you have no problem with what is required and things will flow smoothly for you. It is our hope that your wedding will be a beautiful celebration and we want to help you be assured of this. It is even more our hope that your marriage is beautiful, life-giving and truly sacramental in every way.
Why marry at St. Luke?
Today, couples have many options available to them in the way they choose to live their commitment to one another. In choosing to be married in the Catholic Church couples are expressing not only their commitment to one another, but also their commitment to the Church and the community of faith. Therefore a choice to be married "in the Church" at St. Luke makes sense if:
A person has a faithful relationship with the Lord.
At least one person is a practicing Catholic who takes that commitment seriously.
Both are physically, psychologically and emotionally mature enough to make a permanent, exclusive commitment (given the fact that we expect such maturity we ask that parents not be involved in the wedding planning process at the parish).
The couple gives witness to their faith and to their appreciation of the Sacrament of Marriage by striving to live according to the teachings of the Church.
Weddings take place at St. Luke on Fridays and Saturdays.

Bulletin