7:30 Mass is cancelled for Thursday 3/22.  Offices closed.  No Religious Education (CCD) classes.

Catholic social teaching is central to our faith, and is based on — and inseparable from — our understanding of human life and dignity. These teachings are derived from: the Gospels and the words of Christ; papal statements and encyclicals; and Catholic bishops' statements and pastoral letters. Catholic social teaching calls us all to work for the common […]

PALM SUNDAY SCHEDULE- March 25th Palms will be distributed at the following Masses: Saturday, March 24th:  4:00 pm & 5:30 pm Sunday, March 25th:  7:00 am, 8:30 am, 10:00 am and 12:00 pm Monday of Holy Week-March 26th 7:30 am-Daily Mass *7:00 pm-Chrism Mass- celebrated with Bishop David M. O'Connell at the Co-Cathedral St. Robert […]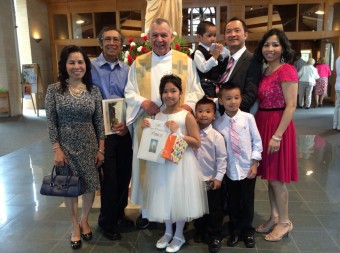 A special welcome to those who are single, married, divorced, gay, filthy rich, dirt poor, or no hablan ingles. We don't care if it is your first Sunday at church or whether you've been to Church more times than the Pope.
We welcome you if you are having problems or are feeling overwhelmed or if you don't like "organized religion." If you are looking for a fresh start, a fresh cup of hot coffee, or a hug from a new friend there is a place for you here.
We welcome seekers and doubters, bleeding hearts and jaded cynics, the lost, the found… and you!
Read this week's bulletin

What's coming up on St. Luke's schedule

The latest parish happenings and announcements

Make a donation to St. Luke's or its campaigns.