THE NEWLY BAPTIZED:  We welcome into our Parish Family  Angelina Theresa Catelli, Kiera Elizabeth Wood, Tyler Francis Anello, Olivia Lee La Ferriere, Samantha Grace Rodrick, and Bryce Wilder.

YOUNG PEOPLE, THE FAITH AND VOCATIONAL DISCERNMENT The goal of this questionnaire – aimed at young people throughout the world from 16 to 29 years of age – is to provide you with the opportunity to communicate, express and recount who you are and what you want to say about yourself. If you would like […]

"Blessed are those who mourn, for they shall be comforted."                        -Matthew 5:4 When someone we love has been taken from us, we often find ourselves dealing with change and transition.  Many offer their help, but do not always understand the loss we are feeling. […]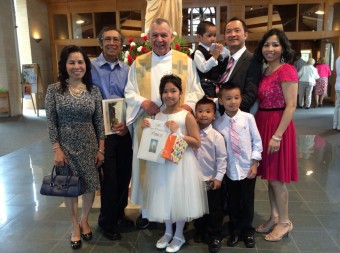 A special welcome to those who are single, married, divorced, gay, filthy rich, dirt poor, or no hablan ingles. We don't care if it is your first Sunday at church or whether you've been to Church more times than the Pope.
We welcome you if you are having problems or are feeling overwhelmed or if you don't like "organized religion." If you are looking for a fresh start, a fresh cup of hot coffee, or a hug from a new friend there is a place for you here.
We welcome seekers and doubters, bleeding hearts and jaded cynics, the lost, the found… and you!

Read this week's bulletin

What's coming up on St. Luke's schedule

The latest parish happenings and announcements

Make a donation to St. Luke's or its campaigns.