We welcome into our Parish Family the newly baptized:  Emma Catherine Vaccaro, Elowyn Mae Burns, Leah Rey Lamb Tinio, John Anthony Kovacs II, Brody Daniel Moser and Braylen Christopher Moser.

Catholic social teaching is central to our faith, and is based on — and inseparable from — our understanding of human life and dignity. These teachings are derived from: the Gospels and the words of Christ; papal statements and encyclicals; and Catholic bishops' statements and pastoral letters. Catholic social teaching calls us all to work for the common […]

The December 20, 2017, General Audience continued Pope Francis' new cycle of catechesis, focusing on the introductory rites of the Holy Mass. Dear brothers and sisters, good morning! Today I would like to enter into the heart of the Eucharistic celebration. The Mass is composed of two parts, which are the Liturgy of the Word […]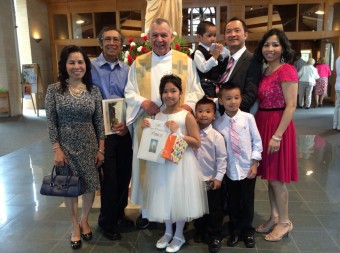 A special welcome to those who are single, married, divorced, gay, filthy rich, dirt poor, or no hablan ingles. We don't care if it is your first Sunday at church or whether you've been to Church more times than the Pope.
We welcome you if you are having problems or are feeling overwhelmed or if you don't like "organized religion." If you are looking for a fresh start, a fresh cup of hot coffee, or a hug from a new friend there is a place for you here.
We welcome seekers and doubters, bleeding hearts and jaded cynics, the lost, the found… and you!
Read this week's bulletin

What's coming up on St. Luke's schedule

The latest parish happenings and announcements

Make a donation to St. Luke's or its campaigns.