We welcome into our Parish Family the newly baptized: Giada Lucia-Mary DeGrandis, Natalie Ann Frassetto, Axel James West, and Conner Michael Zucaro.

Integral Human Development is a new department at the Vatican and answers directly to Pope Francis. According to Fr. Michael Czerny, SJ, recently appointed undersecretary for the department and who is in charge of the section dealing with refugees, migrants and survivors of human trafficking, 'Integral Human Development' goes back to the vision of the […]

Wednesday, March 1st marks the beginning of our Lenten journey, as the faithful flock to parishes around the world to be 'marked' with ashes in the sign of our salvation-the cross. We invite each of you to enter more fully into this journey, beginning with our Masses at 7:00 am, 8:30 am & 11:00 am and […]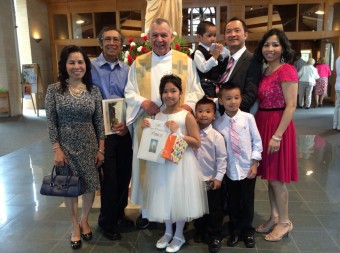 A special welcome to those who are single, married, divorced, gay, filthy rich, dirt poor, or no hablan ingles. We don't care if it is your first Sunday at church or whether you've been to Church more times than the Pope.
We welcome you if you are having problems or are feeling overwhelmed or if you don't like "organized religion." If you are looking for a fresh start, a fresh cup of hot coffee, or a hug from a new friend there is a place for you here.
We welcome seekers and doubters, bleeding hearts and jaded cynics, the lost, the found… and you!

Read this week's bulletin

What's coming up on St. Luke's schedule

The latest parish happenings and announcements

Make a donation to St. Luke's or its campaigns.