Pope Francis-Gaudete et Exsultate-Amoris Laetitia~Laudato Si
January 20, 2014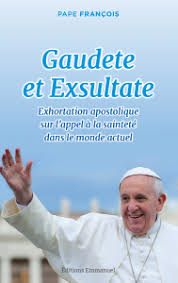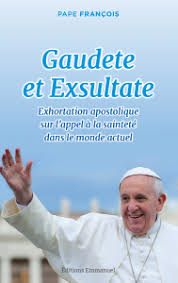 Pope Francis' Apostolic Exhortation "Gaudete et Exsultate"  or
"Rejoice and Be Glad"-Jesus tells those persecuted or humiliated for his sake.  The Lord asks everything of us, and in return he offers us true life, the happiness for which we were created.  He wants us to be saints and not to settle for a bland and mediocre existence.  The call to holiness is present in various ways from the very first pages of the bible.  We see it expressed in the Lord's words to Abraham:  "Walk before me, and be blameless" (Gen 17:1)
Click to read "Gaudete et Exsultate"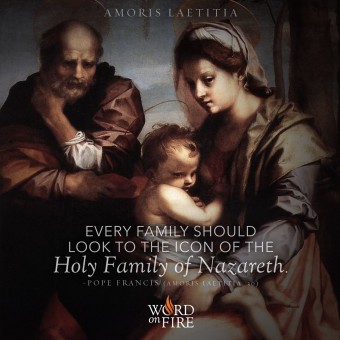 Amoris Laetitia, The Joy of Love, an Apostolic Exhortation on the Family has been released.  Pope Francis encourages everyone of the faithful to read it slowly on their own.  To find out what Pope Francis is trying to tell us, teach us:   Amoris Laetitia-The Joy of Love It is with great anticipation that we are awaiting Pope Francis' newest encyclical "Laudato Si "  translated as "Praised be…" on June 18th.  The title of the encyclical on the environment, is taken from the Canticle of Brother Sun and Sister Moon by St. Francis of Assissi. We have linked below to this most important encyclical from our Holy Father so that all may hear the challenge to live the Gospel with ALL of creation and meet it with the same love that St. Francis and our Pope Francis has for God's creation.
The Canticle of Brother Sun and Sister Moon
Most High, all-powerful, all-good Lord, All praise is Yours, all glory, all honor and all blessings.
To you alone, Most High, do they belong, and no mortal lips are worthy to pronounce Your Name.

Praised be You my Lord with all Your creatures,
especially Sir Brother Sun,
Who is the day through whom You give us light.
And he is beautiful and radiant with great splendor,
Of You Most High, he bears the likeness.

Praised be You, my Lord, through Sister Moon and the stars,
In the heavens you have made them bright, precious and fair.

Praised be You, my Lord, through Brothers Wind and Air,
And fair and stormy, all weather's moods,
by which You cherish all that You have made.

Praised be You my Lord through Sister Water,
So useful, humble, precious and pure.

Praised be You my Lord through Brother Fire,
through whom You light the night and he is beautiful and playful and robust and strong.

Praised be You my Lord through our Sister,
Mother Earth
who sustains and governs us,
producing varied fruits with colored flowers and herbs.
Praise be You my Lord through those who grant pardon for love of You and bear sickness and trial.

Blessed are those who endure in peace, By You Most High, they will be crowned.

Praised be You, my Lord through Sister Death,
from whom no-one living can escape. Woe to those who die in mortal sin! Blessed are they She finds doing Your Will.

No second death can do them harm. Praise and bless my Lord and give Him thanks,
And serve Him with great humility.

Bulletin