National Recovery Month Events in Sept. & Oct.
August 20, 2021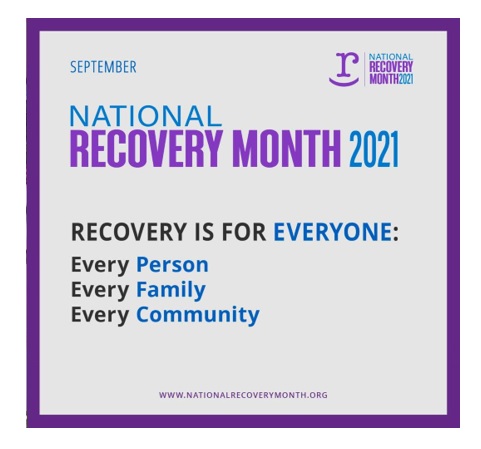 NATIONAL RECOVERY MONTH EVENTS TO BE HELD AT ST. LUKE RC CHURCH SUNDAYS IN SEPTEMBER AND OCTOBER
All Are Welcome to Learn About Addiction Recovery at Five Free Educational Events
St. Luke Roman Catholic Church of Toms River, and the RCCTR (Roman Catholic Churches of Toms River) will host five weekly educational workshops to continue their efforts to spread awareness and share resources within the community. These workshops are being conducted in observance of National Recovery Month, held every September, to educate Americans about substance use treatment and mental health services. Each session will be held at St. Luke Roman Catholic Church at 5pm and doors will open at 4pm for resource gathering from the organization tables. The Thursday Mass will be at 6:30pm.
The following is a summary of each 90-minute session:
Sunday, September 12:

"An Introduction to Addictive Science."

This session will kick off the series with a detailed overview of scientific explanations in easy-to-understand language.
Sunday, September 19:

"Dynamics of the Chemically Dependent Family."

This session will describe the dynamics and roles within families where substance abuse and addiction are part of the daily lives of those involved.
Thursday, September 23:

"The Matt and Max Memorial Mass"

will honor those who have died from addiction during the past two years. The Venerable Matt Talbot (Patron of Alcoholics) and Saint Maximilian Kolbe (Patron of the Drug Addicted) will be memorialized during the liturgy. All are invited to attend and bring photos of their deceased loved ones, which will be displayed during the Mass at 6:30pm.
Sunday, September 26: "

Stages and Patterns of Adolescent Substance Abuse."

This session will be primarily for parents and young adults.
Sunday, October 3:

"Substance Abuse among Military Veterans"

will begin with a DVD presentation followed by a discussion. Members of the American Legion and disabled American Veterans are invited to attend as well.
Sunday, October 10:

"How to Become an Addiction Professional."

This session will discuss how to become a specialized provider, including information about courses available at Ocean County College to become a Certified and Licensed Alcohol and Drug Abuse Counselor. Additional topics covered will include Medicine, Nursing, and other mental health professions.
Fr. Edward Reading, Ph.D., LCADC, CCS, from the Matt Talbot lnstitute in Toms River and part of the Addiction Studies Faculty at OCC, will be the primary presenter of these sessions, along with other professionals from the area. Local treatment agencies will make printed materials available about services and resources throughout the greater Toms River area.
AII sessions are free of charge, but freewill offerings are greatly appreciated.
These events will take place at St. Luke RC Church, 1674 Old Freehold Road, Toms River, NJ 08755 and will also be live streamed via the St. Luke Facebook page. There will be various Ocean County organizations present and information tables in the Narthex to answer questions and provide resources to attendees. St. Luke's is also host to more than 20 AA meetings, 3 Al-anon and 2 Nar-anon meetings, and 3 GA meetings each week, as well as many other support groups. The meeting list is in the weekly bulletins and on the parish website.
Please CLICK HERE to view/print/download the event flyer to share with others.
Please CLICK HERE to RSVP (not required) and add these events to your calendar/receive reminders.
Please CLICK HERE to view/print the Resource Guide that will be distributed at every session to all attendees.
If you would like to follow along with the sessions via the St. Luke Facebook page, the links to view/print the workbooks for the three presentations which use accompanying worksheets will be made available here:

Bulletin