LECTIO DIVINA-Praying with the Scripture
March 16, 2020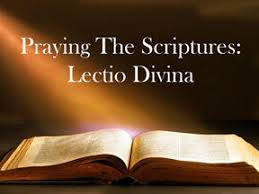 LECTIO DIVINA
READ THINK PRAY BE
Lectio Divina (literally "divine reading") is a way of becoming immersed in the Scriptures very personally. Here are the steps to help you pray with the divine Word and let God speak to you.
READ…the passage slowly and out loud if possible, repeating phrases or words that touch you. Use your ears to hear and your mind to remember.
THINK…. consider, reflect, meditate on what the passage means to you, on what God seems to be saying to you. Use your head to understand the passage.
PRAY… Pour out your heart to God. Share with God as a friend. Tell God what you need, how you feel. Have an intimate conversation with God. Be honest. Let God see you as you are.
BE…In one word, phrase, symbol, image or feeling that captures the spirit of the whole prayer. Let it find its place in you. Let it take root. Stay with it for a few minutes. Take it with you for the day, in your heart. Bring it to mind as often as you can throughout the day. Let the word of God live in you and be your nourishment.
Lectio: Read, Listen Remember
Meditatio: Reflect, Meditate Reflect
Oratio: Pray, holy desire, affects Respond
Comtemplatio: Enter the silence Rest
Adapted from: Francis House of Prayer, Sister Marcy Springer, SSJ, Director. ..84 Walnford Road, Allentown, NJ 08501 www.FHOP.org 609-877-0509
Psalms & Scriptures: from Becky Eldredge <info@beckyeldredge.com>
o Psalm 27// "Teach me Your Path, O Lord"
o Jn 14:27// "Peace I leave you; My peace I give to you."
o Psalm 46: 1// God is our refuge and our strength, an ever-present help in times of trouble."
o Psalm 100// "Know that the LORD is God, he made us, we belong to him, we are his people, the flock he shepherds

Bulletin